Master of Music in Voice Performance and Pedagogy
The Master of Music in Voice Performance and Pedagogy prepares students to be cutting edge 21st-century voice pedagogues, while allowing the student to focus their pedagogic study in a variety of areas of artistic voice training. Along with training in traditional voice performance, course content in voice science presents the student with fact-based voice pedagogy training in physiology and acoustics of singing. Students will synthesize comparative pedagogy for competency in teaching Western Classical and Contemporary Commercial Music (CCM) styles. The study of repertoire for teaching will prepare students with a thorough awareness of repertoire in all major styles to enhance voice technique. Those focus areas, along with potential for quantitative research produced through the facilities at MC and the University of Mississippi Medical Center's Voice Laboratory will equip these students to pursue careers as researchers, pedagogues, or performers.
All candidates for the Master of Music in Voice Performance and Pedagogy must demonstrate competency in International Phonetic Alphabet (IPA) or remedial course work in lyric diction may be required. Prior to degree completion, candidates must demonstrate transcript record of two semesters of college French and German.
Audition Requirements: Five selections from western classical repertoire, in a minimum of four languages. One selection must be an aria from opera or oratorio.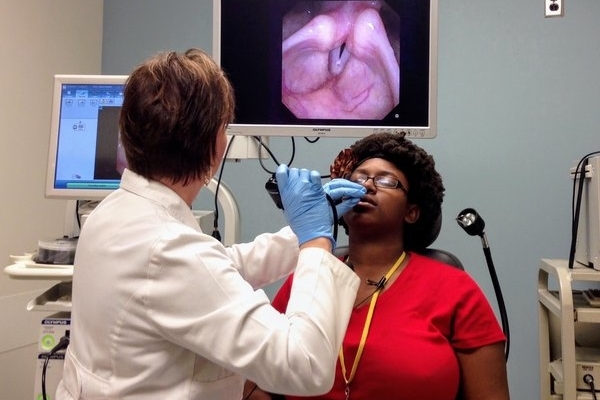 Lab Equipment
VoceVista Pro with Site License
Electroglottograph from EGGs for Singers
Phonatory Aerodynamic System (PAS 6600), KayPentax
Computerized Speech Lab (CSL), KayPentax
Ambulatory Phonation Monitor (APM), KayPentax
2 Nasometers from Glottal Enterprises
Incoming students receive a complimentary stroboscopic screening
Current and Recent Research
Effects of Belt Voice Warm-Up on Mode 2 Voice Production
Reliability of Aerodynamic Measures at High Singing Frequencies
Laryngeal Manipulation in Singer's Warm-Up: Aerodynamic Outcomes
Degree Requirements (32 sem. hrs.)
Core Courses (9 sem. hrs.)
MUS 6530 - Music Research and Writing

Choose one of the following:
MUS 6509 - Projects in Applied Theory and Analysis
MUS 6558 - Schenkerian Analysis

Choose one of the following:
MUS 6514 - Topics in Music History I
MUS 6515 - Topics in Music History II
MUS 6555 - History of American Music
MUS 6556 - Comparative Arts
Performance (8 sem. hrs.)
MUS 6532 - Applied Voice (6 sem. hrs.)

Ensemble (2 sem. hrs. from the following):
MUS 6596 - Opera Workshop
MUS 6597 - Singers
MUS 6594 - Choctaw Chorus
Pedagogy (9 sem. hrs.)
MUS 6564 - Anatomy & Physiology of Voice Production
MUS 6570 - Voice Acoustics & Teaching Technology
MUS 6566 - Voice Literature for the Applied Studio
MUS 6569 - Practicum in Comparative Voice Pedagogy (2 sem. hrs.)
Graduate Recital (3 sem. hrs.)
Choose one of the following:
MUS 6500 - Graduate Recital
MUS 6540 - Graduate Recital with Monograph
MUS 6550 - Graduate Lecture Recital
Elective (3 sem. hrs.)
Choose one of the following:
MUS 6563 - CCM Voice Pedagogy
MUS 6565 - History of Voice Pedagogy
MGT 5454 - Entrepreneurship