Master of Music in Voice Performance and Pedagogy
The Master of Music in Voice Pedagogy and Performance prepares candidates to be evidence based, functional voice pedagogues in multiple styles of singing. Students will expand their pedagogic and artistic study in varying focus areas of voice training. Candidates will synthesize comparative pedagogy for competency in teaching Western Classical, Musical Theater, and Contemporary Popular styles of singing, to meet the needs of a diversifying marketplace. The development of online teaching technology will expose candidates to these technologies, while preparing them to teach remotely and in person. Students pursuing this degree will take all voice pedagogy coursework in a fully online format. Core music classes, applied lessons, and the capstone recital may be taken in fully online or in-person formats. Students pursuing the fully online model must have the required equipment at matriculation to the program.
Audition Requirements
Five selections demonstrating the candidate's vocal strengths. A minimum of one selection in a second language should be included.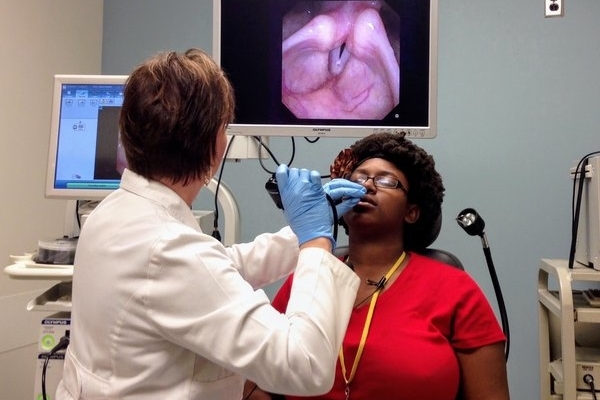 Lab Equipment
VoceVista Pro with Site License
Electroglottograph from EGGs for Singers
Phonatory Aerodynamic System (PAS 6600), KayPentax
Nasometer from Glottal Enterprises
Current and Recent Research
Effects of Belt Voice Warm-Up on Mode 2 Voice Production
Laryngeal Manipulation in Singer's Warm-Up: Aerodynamic Outcomes
The Evolution of Popular and Musical Theater Treble Voice Timbres (1920-2020)
Degree Requirements (32 sem. hrs.)
Core Courses (9 sem. hrs.)
MUS 6530 - Music Research and Writing

Choose one of the following:
MUS 6509 - Projects in Applied Theory and Analysis
MUS 6558 - Schenkerian Analysis

Choose one of the following:
MUS 6514 - Topics in Music History I
MUS 6515 - Topics in Music History II
Performance (8 sem. hrs.)
MUS 6532 - Applied Voice (6 sem. hrs.)

Pedagogy (12 sem. hrs.)
MUS 6564 - Anatomy and Physiology of Voice Production
MUS 6566 - Voice Repertoire for the Applied Studio
MUS 6570 - Voice Acoustics
MUS 6569 - Practicum in Voice Pedagogy
Graduate Recital (3 sem. hrs.) Choose one of the following:
MUS 6500 - Graduate Recital
MUS 6540 - Graduate Recital with Monograph
MUS 6550 - Graduate Lecture Recital
Online Option Technology Requirements
Laptop or desktop computer - Mac products preferred, 6 core or greater
Ethernet-connected internet connection - Cat6 cable or greater
Audio interface - Scarlett 2i2 or greater
XLR cable Wire, semi-open back headphones - AKG K240 or better
XLR-connected microphone - Shure SM56 or greater, preferred omnidirectional reference microphone, Audix TM1 or greater